Maharashtra PIB followed the trend of "Rasoda"
Four words, "Rashi ben", "kokila", "Gopi Vau" and the star of the show "Rasoda". They were the reason for the entire buzz spreading since the past many days. If you are still not aware of the trend than keep on reading, it all started when a You tuber and Instagram user Yashraj Mukhate converted a scene from the daily soap named "Sath Nibhana Sathiya" into a melody. Since netizens started sharing it and a lot many other variations came into existence. May it be any social media platform, such as Instagram, Facebook, and Twitter no one could get away from the song.
PIB in Maharashtra shared a post on their official account. The song is already hilarious, the government wanted to put in some important facts in it.
"#RasodeMeinKaunTha", is from where the tweet started and wrote, "Whoever it may be, ask them to add pulses." The post got way hilarious with the addition of the picture.
As soon as the post got shared it managed to get the attention of the users. It got 140 retweets and more than 800 likes. People loved and appreciated the approach and couldn't stop laughing. Everyone praised the fact that how beautifully the information was shared.
A user in reply to @PIB Mumbai said:
@YBMukhate: Dialogue with beats "Rasode me kaun tha"
Meanwhile,
PIB in Maharashtra :
"Can't help"…Add Pulses"
No-one,
Cooker to PIB:
Waqt badal diye, zindagi badal di, Zazabaat badal diye"
Me: (laughing emojis)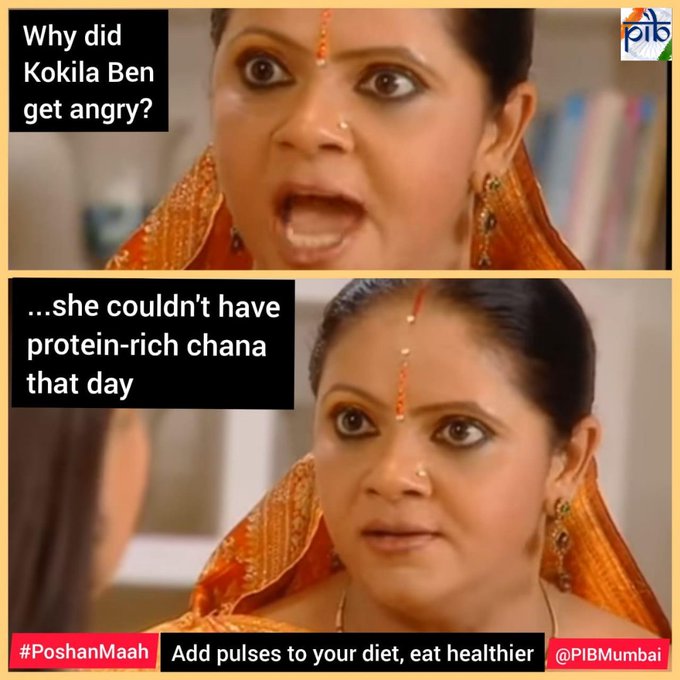 Yashraj Mukhate gained a good number of followers after the video got viral.